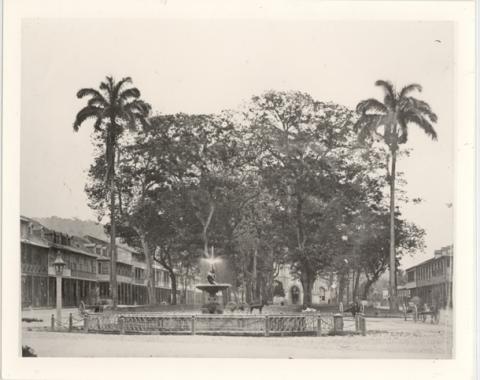 Marine Square Fountain 1900s Plaza De La Marina was the name given to the area extending from the Wharf in the west to the Roman Catholic Cathedral to the east. The original site had a low lying beach and a portion of land reclaimed from the sea. This was fashioned into a square by the Spanish Colonists. During the eighteenth century the sea washed the southern portion of the square and at high tide waves beat the walls of the Roman Catholic Cathedral. When the British came in 1797 the name was changed to Marine Square. In the 1880s a fountain was erected in the middle of the square. Today this area is the site of the statue of Captain Arthur Andrew Cipriani (1875-1945), one of Trinidad and Tobago's celebrated political leaders and sportsmen.
In those early days the square was used for military pageants by Governor Sir Ralph Woodford. The square was the main thoroughfare of the town, with a shady boulevard, planted with mahogany trees. As the town developed both sides of the square was occupied by business establishments.
In the middle of the square and south of the fountain was Almond Walk . This area developed out of a land reclamation project. It was a wide avenue with two rows of almond trees planted in the middle. This area became a residential area with homes on either side. Residents enjoyed taking evening strolls along the Walk. With further expansion, northward this avenue became a busy street leading to the Wharf, railway station and tram terminals. Between 1895 and 1906 trams ran along Almond Walk. In May 1906 the name was officially changed to Broadway. Today this area is used as a taxi stand with businesses on either side.
Brian Lara PromenadeIn 1961 Marine Square was renamed Independence Square. During the 1960s this square was a hub for cars and taxis. By the 1970s a development plan entitled "The Port of Spain Land Use Plan" proposed that a promenade should be created in this area. However, it was not until 1993 that work began on the construction of the promenade.The area was then renamed the Brian Lara Promenade in honor of Trinidad and Tobago's most celebrated cricketer and record breaking batsman, Brian Charles Lara (1974-).The Promenade was completed in three phases and finally opened in August 1995. Many activities are conducted on the Promenade including entertainment events, programmes celebrating different national festivals and exhibitions. It is estimated that over 127,000 people cross the Promenade on any given day.
Princes Building
Salvatori Building
Columbus Square
Changing Face of Port of Spain